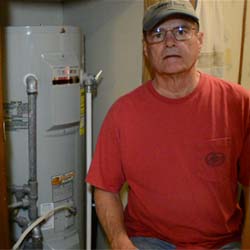 HOT WATER HEATER TEMPERATURE: WHY IT MATTERS
November 6, 2022
     In this video I show you how to adjust the temperature on an electric hot water heater. It is a very simple DIY project, usually only requires a screwdriver and a little time. In addition to showing you how to do a hot water heater temperature adjustment, I feel it is important to know some basics about proper water temperature for different situations.
From person to person the perception about the most comfortable water temperature will vary. Keeping this in mind in addition to the following information, will help you make the right temperature adjustment.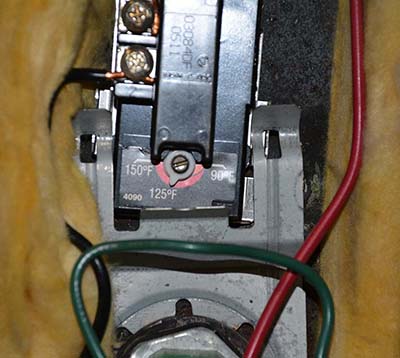 In households with the very young or with elderly members the hot water temperature should not be set above 120 degrees, but in households with an immunocompromised individual the temperature should be increased to 140 degrees. If the immunocompromised individual is very young or old, supervision is recommended, due to the increased risk of a serious burn. The American Burn Association says that three seconds of exposure to 140-degree-Fahrenheit water are all it takes to cause a serious burn injury.
The very young and the elderly are most prone to scald burns for a variety of reasons. They both have thinner skin layers and decreased ability to react quickly due to reduced reaction time, decreased mobility or lack of motor skills. In homes with the young or old a temperature setting of 120 degrees would be safer.
People who are immunocompromised, who's body is unable to properly defend against microorganisms would possibly benefit from a higher water temperature. The ideal temperature for an electric hot water heater in households with immunocompromised persons is 140 degrees Fahrenheit.
   Considering your family members age and immune status is important in deciding what water temperature is best for your home.

Here is the link to out video: HOT WATER HEATER TEMPERATURE: WHY IT MATTERS
Please give this video a THUMBS UP and SHARE it with your friends.
Please LIKE and SUBSCRIBE
Support from viewers like you is what keeps us going.
Thank you for your support.
This video is NOT sponsored. Some product links are affiliate links which means if you buy something we'll receive a small commission.
Equipment and software we used in making videos:
Canon 90D DSLR The camera we use for most of our still photos and video
GoPro Great camera for blogging and travel
Rode Wireless Go Microphone A very good wireless microphone
Neewer LED Video Light kit Get better lighting
3 Legged Thing, Brian Our Tripod
Camtasia Video Editor
Adobe Creative Cloud Storage space for files
Adobe Photoshop Photo editor
Please visit our YouTube Channel
The focus of our YouTube Channel is to help you save money by doing things yourself!
Please visit our new YouTube Channel , "Bucket List Time with Ann and Wayne"

Thank you for visiting and have a great day!
Wayne