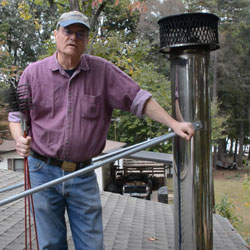 Chimney Sweep
December 15, 2021
Click here to see my Chimney Sweep video.
Join me as I show you how perform a Chimney Sweep from top to bottom. I start with talking about the tools used to clean the flue. I use a round wire brush and several flexible fiberglass rods. I also have my DeWalt impact Driver to make things go faster. Then I proceed with disassembly, First I remove the cap. It only has one screw that needs to be loosened and it will lift off.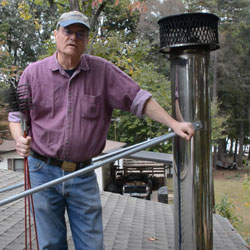 Next I remove the braces for the flue so I can remove the top section of the chimney. I do this because if I don't, I have trouble getting the brush down and then back up the chimney. I also show what the creosote looks like at this point. It is a hard and crusty substance that builds up on the inside of your chimney. If not cleaned out it can catch on fire and / or reduce the air flow up your chimney to the point that your wood stove will smoke up your house.
I had to stop for a couple of days because it started raining. Next we demonstrate cleaning the top. I show how to dissemble the top and the tools I use to clean it. It does not need to sparkle, just fairly clean. Then I reinstall the topper on the top of the chimney.
Next I take you inside my house to my Fisher Mama Bear Wood Stove. I proceed to demonstrate cleaning the stove with a few more tips. And then I am done. I will need to clean up around the outside of the stove dut it's ready for a fire.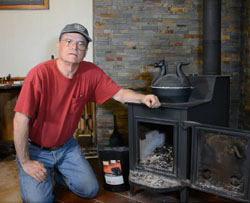 Please subscribe to our YouTube Channel and click on LIKE on our videos.

Thank you for visiting and have a great day.

This video is NOT sponsored. Some product links are affiliate links which means if you buy something we'll receive a small commission.

Below are links to the equipment we used making this video.
Nikon D7100 DSLR
GoPro HERO9 Black:
Rode Wireless Go Microphone
Neewer LED Video Light kit
We also have a new camera, a Canon 90D, we will be making 4K video with this camera

Please give this video a THUMBS UP and SHARE it with your friends.
Please LIKE and SUBSCRIBE Support from viewers like you is what keeps us going.
Thank you for your support.

Visit us on Facebook:

The focus of our YouTube Channel is to help you save money by doing things yourself!

Please visit our new YouTube Channel
Bucket List Time with Ann and Wayne

Back to our BLOG's

Thank you