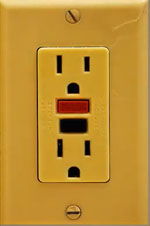 How to test a GFCI outlet
December 8, 2021
This video will teach you how to test a GFCI outlet as well as regular outlets. We start with how to identify if the outlet is a GFCI Outlet. We will also go over a inexpensive tester for testing regular and GFCI outlets. This type of tester is a good tool for any homeowner to have. You can easily test all your outlets by simply plugging it in to each outlet. also it's a good idea to retest anytime you suspect a problem or if you have electrical work done in your home.
If you want to know How to test a GFCI outlet, go here.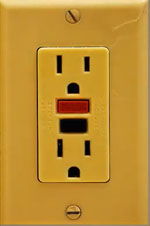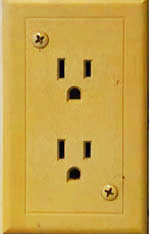 The outlet on the left is a GFCI Outlet, the one on the right is a standard outlet

This tool can also be used to identify if a standard looking outlet is protected by a GFCI outlet at another location. Because standard outlets and be daisy-chained after a GFCI outlet or breaker. I will demonstrate this with a GFCI outlet and again with a GFCI breaker.

It is very important to have ALL outlets in places where you may encounter water or a damp area. Examples are Kitchens, Bath Rooms, Outdoors, Basements.

GFCI outlets are for your protection but it is up to you to be sure the are working correctly so if you want to know How to test a GFCI outlet, go here.


Please subscribe to our YouTube Channel and click on LIKE on our videos.

Thank you for visiting and have a great day.

This video is NOT sponsored. Some product links are affiliate links which means if you buy something we'll receive a small commission.

Below are links to the equipment we used making this video.
Nikon D7100 DSLR
GoPro HERO9 Black:
Rode Wireless Go Microphone
Neewer LED Video Light kit
We also have a new camera, a Canon 90D, we will be making 4K video with this camera

Please give this video a THUMBS UP and SHARE it with your friends.
Please LIKE and SUBSCRIBE Support from viewers like you is what keeps us going.
Thank you for your support.

Visit us on Facebook:

The focus of our YouTube Channel is to help you save money by doing things yourself!

Please visit our new YouTube Channel
Bucket List Time with Ann and Wayne

Back to our BLOG's

Thank you